What is VetPaw?
Veterans Empowered to Protect African Wildlife (VETPAW), a nonprofit conservation organization, is excited to announce that it is partnering with Recycle for Veterans (RFV) to clean up the Santa Monica Pier and the beach. Ryan Tate, the founder and president of VETPAW, says of the partnership, "We as humans must strive to preserve our planet and mother nature for future generations. VETPAW's mission of conserving endangered wildlife is part of the larger equation that our world faces, which is why we're excited to partner and support RFV's critical mission."
Located at 2427 Main St in Santa Monica, CA, the Santa Monica Pier is a historic landmark that has delighted visitors for over one hundred years. According to SantaMonica.com, "You know you've arrived in Santa Monica, California when you see the iconic Santa Monica Pier Ferris Wheel of the Santa Monica Beach Pier jutting into the inviting waters of the Pacific Ocean. Set at Santa Monica's westernmost point, the Santa Monica Pier is a staple of this picturesque seaside community. Packed with family-friendly activities, vibrant street performers, restaurants and shops, it also has stunning views and over a century's worth of history."
VETPAW and Recycle for Veterans are enthusiastic about this opportunity to clean and beautify a landmark that is beloved by the Santa Monica community. The Santa Monica Pier cleanup is a free event that will be held on February 13, 2021, from 10:00 am to 1:00 pm. Following some remarks from the co-founders of Recycle For Veterans, the team will begin the cleanup of the beach. Due to current COVID-19 concerns, all participants must sign a waiver in order to take part in the event. It is asked that all volunteers bring and wear a mask and maintain a six-foot distance between each other per the CDC's recommendations. All participants should be healthy and should not exhibit a fever or coughing. More information about the Santa Monica Pier cleanup can be found by visiting https://recycleforvets.com/event/santa-monica-pier.
By bringing together the varied skillsets of their team members, VETPAW and Recycle for Veterans seek to multiply their conservation efforts. The co-founder and CEO of Recycle for Veterans, Kyle Hansen, emphasizes the importance of working together for the benefit of the planet and the environment. He says, "Alone, our impact is small; together we can do so much more. Partnering with VETPAW under the common cause to do better by our planet and the animals we share it with creates the foundation for a global impact."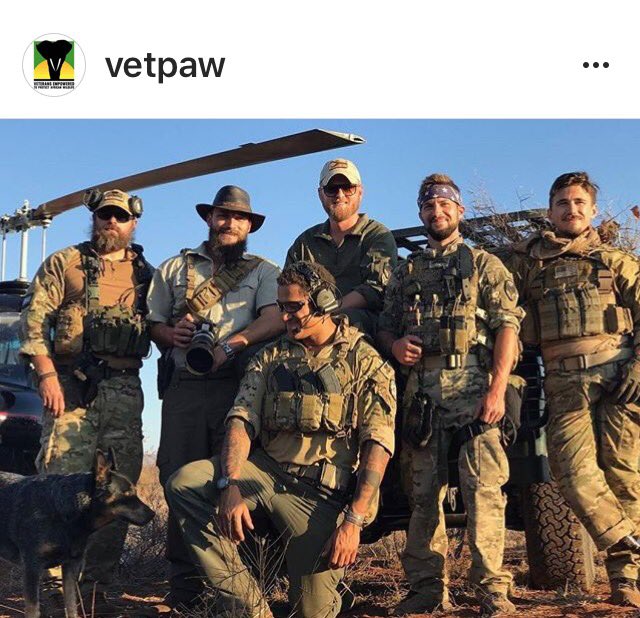 Veterans Empowered To Protect African Wildlife
By making good use of the skills of post-9/11 Veterans, the VETPAW team trains, advises and assists Africa's park rangers as they strive to preserve endangered wildlife. The conservation organization chooses to empower veterans because their skills, which were learned and honed on the frontlines of conflicts, are unrivaled.
VETPAW's team of veterans work with local park rangers and African law enforcement in order to stop poachers. Through the generous donations of supporters, the team trains local park rangers free of charge and teaches them the best techniques that enable them to operate at a higher level. In addition, VETPAW is dedicated to educating people about the benefits of thriving wildlife and supports the research and monitoring of endangered animals on the reserves that the team protects.
Andrew Levin, a co-founder of Recycle for Veterans, says of VETPAW, "We chose to partner with VETPAW because they're an incredible organization that practices what they preach in creating a sustainable environment for endangered species while helping veterans find their purpose outside of the military."
Recycle for Veterans
At Recycle for Veterans, the mission is to remove trash from the planet by empowering veterans to help clean their communities. Founded by two veterans of the United States Marine Corps, Recycle for Veterans seeks to demonstrate to the world that a group of motivated people can make a difference by bringing the community together to clean up litter and trash. The organization wants to help people around the world take the initiative to create a cleaner future and be a force for positive change. Together, the Recycle for Veterans team and its partners and volunteers can create a better and brighter future that generations to come can enjoy. By providing a fun, interactive environment for service, the organization helps make cleaning up the Earth an enjoyable task.
To learn more about the cleanup event at the Santa Monica Pier, call 949-288-1760. For more information about VETPAW reviews or their endangered wildlife conservation efforts, email info@vetpaw.org.